4 HDMI inputs and has an intuitive, easy to use design that makes it possible for anyone to live stream multi camera productions online via services and software such as YouTube Facebook Live or even Skype.
สวิทเชอร์รองรับสัญญาณอินพุท HDMI 4 แชลแนล 1080p60 10-Bit 4:2:2 สตรีมผ่านพอร์ท USB-C ไปยังคอมพิวเตอร์ได้ทันที พอร์ท HDMI Output สำหรับพรีวิว เอฟเฟกต์ทรานสิชั่นในตัว, Chroma Key, ซ้อนภาพนิ่ง
Introducing lowcost multi camera live production with advanced broadcast features
The new ATEM Mini makes it easy to create professional multi camera productions for live streaming to YouTube or innovative business presentations using Skype. Simply connect ATEM Mini and you can switch live between 4 high quality video camera inputs in dramatically better quality images. You can even connect to a computer to present PowerPoint slides or add a gaming console. The built in DVE allows exciting picture in picture effects, perfect for live commentary! There's loads of video effects too! To live stream, ATEM Mini has a USB output that works like a webcam, so you can connect to any video software. There's also HDMI video out for projectors! Microphone inputs allow high quality desktop and lapel mics for interviews and presentations. ATEM Mini even has secret broadcast features built in so it can do high end work!
Faster VideoProduction Plus Live Streaming
Live production is the fastest way to complete a finished program, plus you can stream it to a live global audience via YouTube at the same time. The USB webcam output of ATEM Mini connects to any computer and looks just like a built in webcam so all streaming software for social media platforms work! With up to 4 HDMI inputs you can set up multiple camera angles such as wide shots along with independent close ups of each person in the performance. Or you can connect to a computer with a PowerPoint slide show, video clip playback, web sites or gaming consoles. All switching is in real time so you can live stream to any social media platform such as YouTube, Facebook, TwitchTV and many more!
Self ContainedBroadcast Quality Switcher
ATEM Mini features a compact control panel based design with all video, audio and control connections on the rear panel. The front panel includes easy to use buttons for selecting sources, adjusting audio inputs, as well as selecting video effects and transitions. The rear panel includes HDMI inputs for connecting cameras or computers, plus additional microphone inputs. The ATEM Mini program is output via an HDMI video out as well as a USB for webcam output. The front panel buttons are large and easy to use by feel, so it's even possible to use the switcher while presenting! You also get audio mixer buttons for live audio mixing. The fade to black button "FTB" lets you fade down at the end of your program.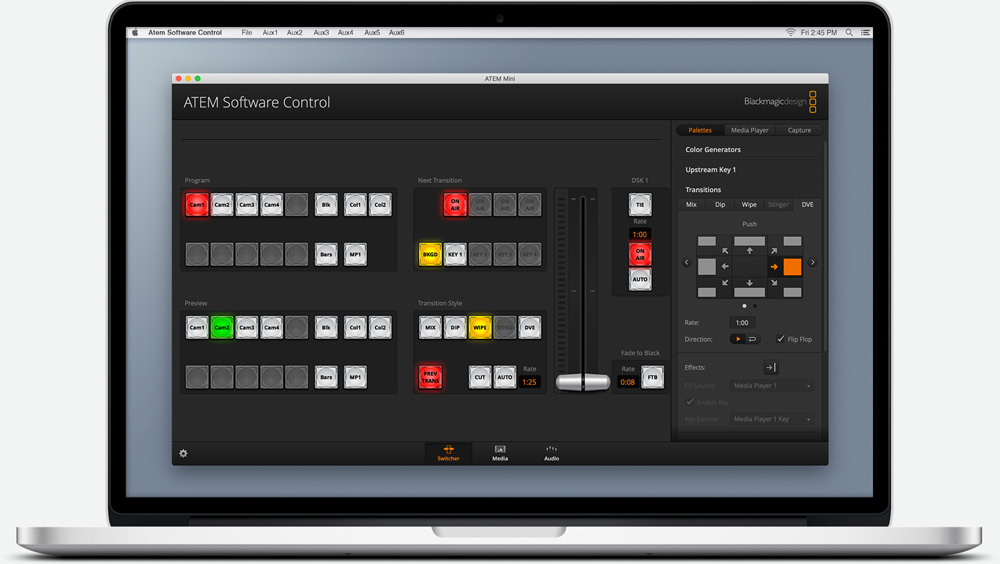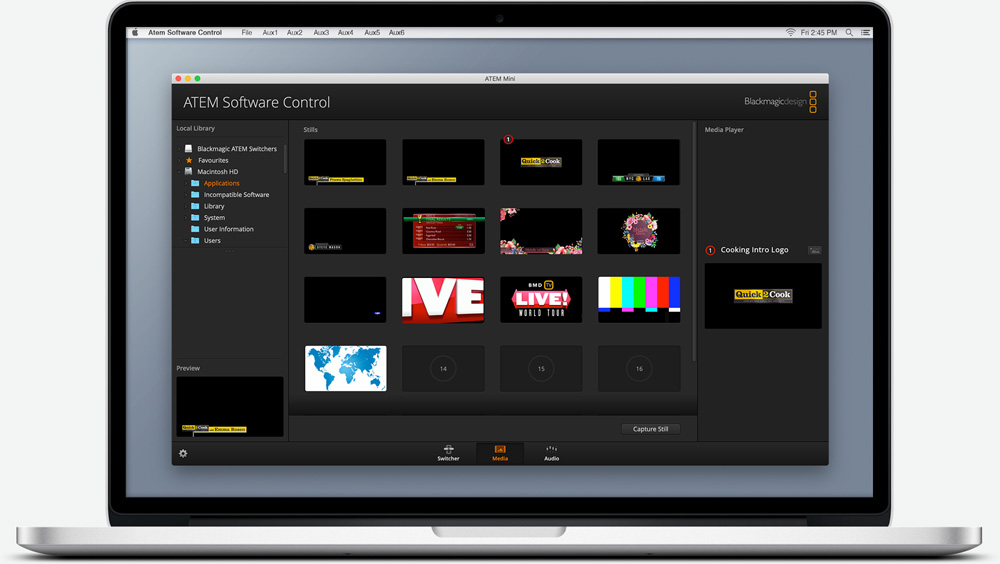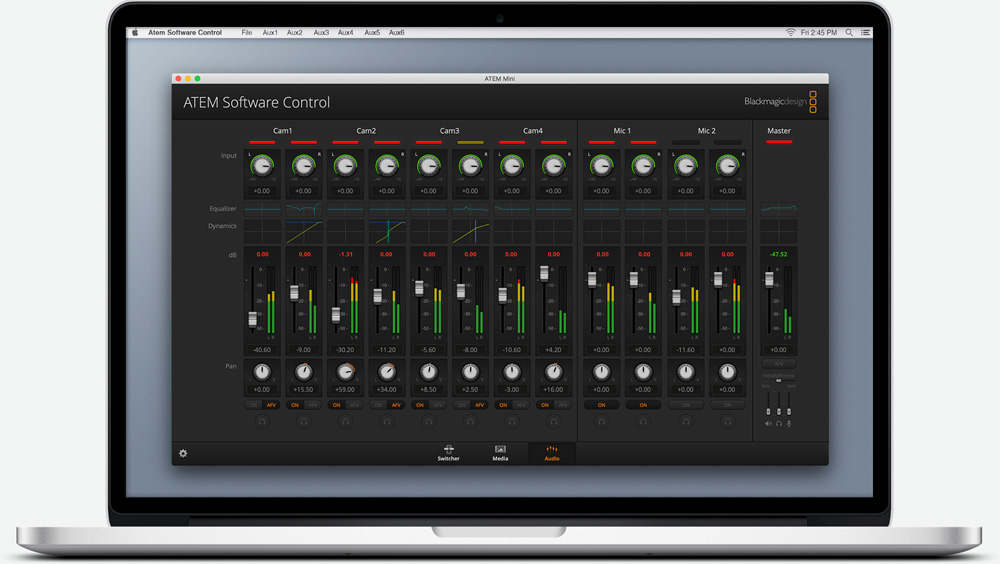 Includes FreeATEM Software Control Panel
The ATEM Software Control app unlocks the hidden power of the ATEM Mini as you get total control over the switcher features, plus the software is included free for Mac and Windows! ATEM Software Control features a visual switcher user interface with parameter palettes for making quick adjustments. Although you can normally connect via USB, if you connect using Ethernet it's possible for multiple users to connect to ATEM Mini using separate copies of ATEM Software Control on different computers! The software lets you access full audio mixing with effects, load still frames and even advanced macro programming! You can save the switcher state as XML files! If you need clip playback, you can even control HyperDeck disk recorders via Ethernet.
Features :
ใช้งานง่าย ขนาดเล็ก กระทัดรัด เคลื่อนย้ายสะดวก

รองรับงานระดับมืออาชีพ ต่อเข้ากับกล้องได้พร้อมกัน 4 ตัว ช่องเสียบไมโครโฟน เเละจอมอร์นิเตอร์ แบบ HDMI Input 4 ช่อง 3.5mm 2 ช่อง พร้อมเป็น Capture Card ในตัว

มีระบบ Multiview ดูภาพจาก 4 ช่องสัญญาณได้พร้อมกัน (เพิ่มมากจากตัว Atem mini)

ช่อง USB-C Output รองรับ 1080p60 10-Bit 4:2:2

ควบคุมระบบภาพเเละเสียงได้ในที่เดียว

บันทึกวีดิโอระหว่างการ live streaming ได้ บันทึกไฟล์วีดีโอ H.264 ลง SSD ได้ทันที

Special effect สำหรับงานวีดิโอที่หลากหลาย พร้อมเอฟเฟค กราฟฟิค เพื่อการตัดต่อภาพเเละวีดิโอระดับมืออาชีพ

ปรับสลับหน้าจอระหว่างวีดิโอ หน้าจอคอมพิวเตอร์ เพื่อการนำเสนอผลงานเเบบมือโปร

RGBA graphics 20 แบบให้เลือกใช้ ทั้งกราฟิคเปิดเรื่อง ชื่อเรื่อง เเละโลโก้

เเสดงผลผ่าน ทีวี มอร์นิเตอร์ หรือโปรเจคเตอร์ก็ได้ทั้งนั้น

Professional Audio Mixer ในตัวเพื่อการปรับเเต่งเสียง เพื่องานด้านเสียงโดยเฉพาะ

ช่อง ออดิโอ 3.5mm จำนวน 2 ช่องใช้ต่อไมโครโฟน รองรับระบบเสียงที่เพิ่มเติม

สตรีมผ่านพอร์ท USB-C ไปยังคอมพิวเตอร์ได้ทันที

ATEM Software ฟรี สำหรับการใช้งานทั้งระบบ Mac และ Windows

ช่อง USB output ใช้ Software ที่เคยใช้กับ Webcam ได้ทั้งหมดเช่น Skype, XSplit Broadcaster, YouTube Live, Facebook Live, Skype, Twitch TV, Periscope, Livestream, Wirecast

รองรับการควบคุม HDMI ระยะไกลด้วย Blackmagic Pocket Cinema
Inputs

4 x HDMI Type A
2 x 3.5 mm Stereo Analog Audio
1 x RJ45 Ethernet

Outputs

1 x HDMI
1 x USB Type-C (Computer/Webcam)
Video Input Formats

HDMI Video:
1080p: 60, 59.94, 50, 30, 29.97, 25, 24, 23.98
1080i: 60, 59.94, 50
720p: 60, 59.94, 50

HDMI Resolutions for Computers:
1080p: 60, 59.94, 50, 30, 29.97, 25, 24, 23.98
1080i: 60, 59.94, 50
720p: 60, 59.94, 50

Video Output Formats

1080p: 60, 59.94, 50, 30, 29.97, 25, 24, 23.98

Video Sampling

4:2:2 YUV

Color Precision

10-Bit

Color Space

Rec. 709

Color Space Conversion

Hardware-Based, Real Time

Embedded Audio

2-Channel Input and Output

Audio Mixer

6-Input, 2-Channel

Media Player

1 x Player with Fill and Key

Still Image Capacity

20

Image Format Support

PNG, TGA, BMP, GIF, JPEG, TIFF
Keyers

1 x Upstream
1 x Downstream
1 x Advanced Chroma
2 x Linear/Luma
1 x Transition (DVE Only)

Layers

Up to 4

Generators

1 x Pattern
2 x Color

DVE

1 x Border and Drop Shadow

Monitor Resolution

1366 x 768 or Greater

Number of Windows

10

Operating System Support

Apple macOS 10.13, 10.14, or Later
Windows 10

Power Input

1 x Barrel

Voltage

12 V

Power Draw

18 W

Operating Temperature

41 to 104°F / 5 to 40°C

Storage Temperature

14 to 140°F / -10 to 60°

Relative Humidity

0 to 90% Non-Condensing

Dimensions

9.4 x 4.1 x 1.4" / 23.8 x 10.4 x 3.6 cm

Weight

19.4 oz / 550 g
| | |
| --- | --- |
| Package Weight | 2.18 lb |
| Box Dimensions (LxWxH) | 10.9 x 5.7 x 4.55" |